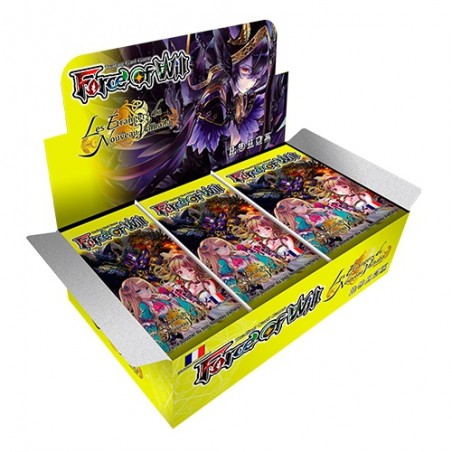  
FORCE OF WILL - Booster - Les Etrangers du Nouveau Valhalla (FR) x36
1,95 CHF
Économisez 0,95 CHF
TTC
Cartes en français :
Conditionné en Boite de 36 Boosters.
À propos de l'extension " Les Étrangers du Nouveau Valhalla "
En conservant la philosophie de la première extension, aucun Rulers ne sera présent dans cette nouvelle extension " Les Étrangers du Nouveau Valhalla ", et la distribution des cartes sera la même afin que les joueurs puissent avoir plus facilement quatre exemplaires " un playset " des cartes nécessaires.
Au niveau des personnages, la bien-aimée Alice fait son retour après une longue absence. Athénia, un personnage bien connu des très anciens joueurs de Force of Will fait également son retour. Quels combats attendent ces deux jeunes filles ?
Contenu :
Standard : 10
Rare : 20
U : 30
C : 40
Secrète : au hasard.
Total : 100 cartes + ??? Secrètes
À l'intérieur de la boite de boosters se trouver également un pack de Ruler Basique contenant deux exemplaires des trois Rulers Basiques, six exemplaires de chaque Pierre Magique ainsi qu'une carte promo.
Les formats scellés et draft sont supportés avec cette extension.
Cette extension propose des cartes ayant une bonne synergie avec les Decks de Démarrage du bloc Nouveau Valhalla.
Fiche technique
Editeur

Force of Will

Date de sortie

25/01/2019

Poids

0.0226388 KG

Catégorie principale

Jeux de société

Sous-catégorie

Cartes (JCC)

Licence

Force of Will

Type

Booster
Aucun avis n'a été publié pour le moment.
Votre avis ne peut pas être envoyé
Signaler le commentaire
Êtes-vous certain de vouloir signaler ce commentaire ?
Signalement envoyé
Votre signalement a bien été soumis et sera examiné par un modérateur.
Votre signalement ne peut pas être envoyé
Avis envoyé
Votre commentaire a bien été enregistré. Il sera publié dès qu'un modérateur l'aura approuvé.
Votre avis ne peut être envoyé